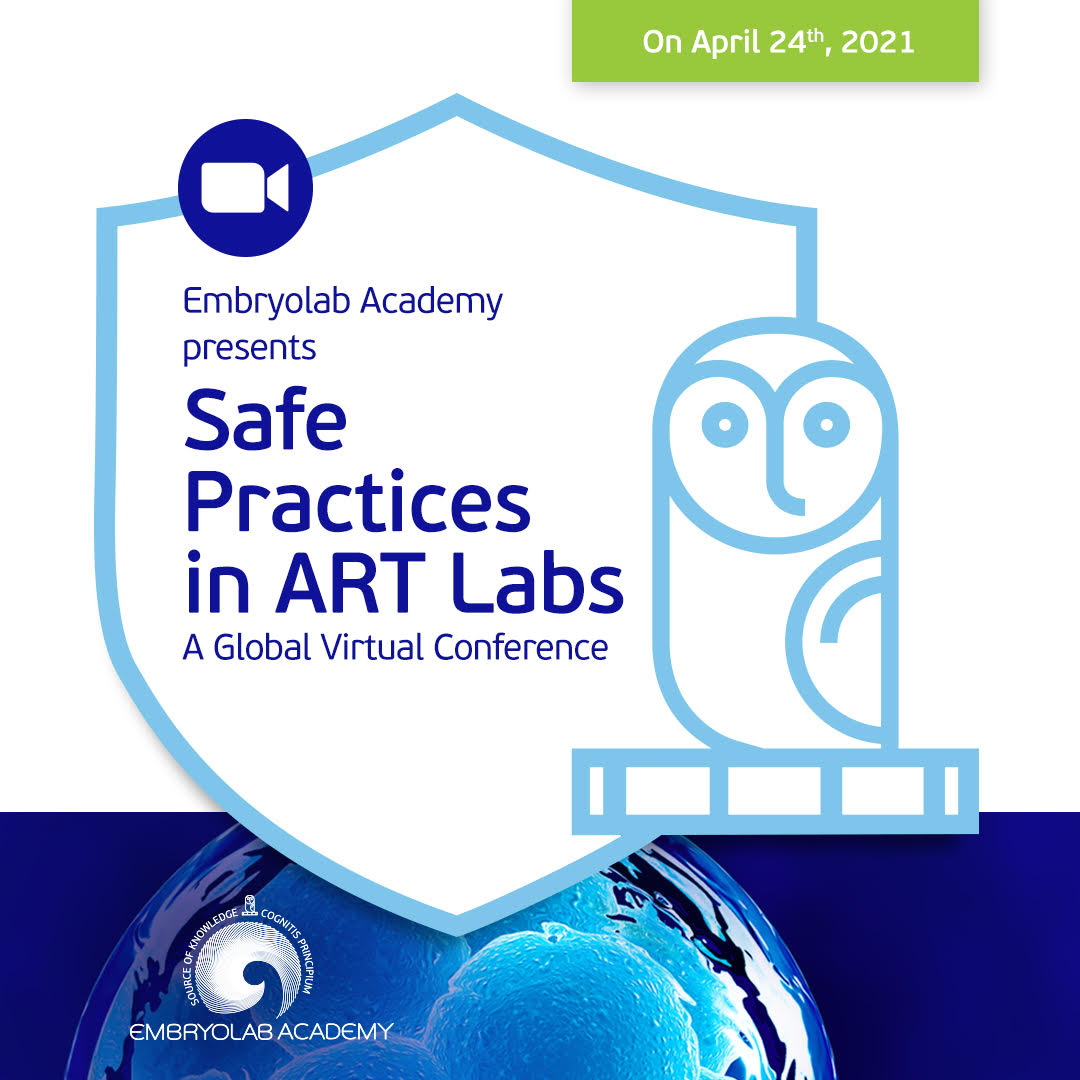 EmbryoLab Academy presents:
Safe Practices in ART Labs
A Global Virtual Conference
On April 24th, 2021
17:00-21:00 EET\15:00-19:00 GMT\16:00-20:00 CET
Numerous and ongoing scientific and technological achievements in the field of assisted reproduction have created a new challenging situation in modern ART labs: Different critical processes need to take place at the same time or in a highly coordinated fashion by different operators.
How do we ensure safe practices?
How do we ensure high performance per technique and per operator?
Which are the critical elements for a successful ART lab?
Embryolab Academy brings Experts together to present their long experience and:
Openly discuss and interact with the participants.
Present and analyze real case scenarios.
Discuss lessons learned.
Present potential adverse scenarios and discuss preventive responses and tools.
This 4-hour virtual meeting aims to increase awareness on how to maintain safety and high performance in a system of high complexity such as ART labs.
Target Audience:
Fertility clinic managers, Lab Directors, Lab Managers, Clinical Embryologists, Andrologists, Quality Managers, Clinicians, Reproductive technologists, Risk Managers.
CME's & Certification of attendance will be provided 
Saturday, 24 th April 2021
Safeguard your IVF Lab: Lectures
A Embryolab Academy Presentation and Opening of the event
Alexia Chatziparasidou, MSC, PMI-RMP, Greece

Quality Control in an ART Lab
Kelly Tilleman, Phd, Msc, Belgium
During this lecture the essential characteristics of a Quality Control System in an ART lab will be presented, as part of Good practice guidelines, Legal requirements, and Duty of care.

Monitoring performance in an ART Lab- The Embryologist's perspective
Dean Morbeck, PhD, HCLD (ABB), New Zealand

Monitoring performance in an ART Lab- The Clinician's perspective Nikos Christoforidis, MD, MSc, FRCOG, Greece

During these 2 lectures strategies on how to monitor and ensure high performance in a modern ART lab will be presented by combining the Embryologist's and Clinician's perspective

ART Labs and the Human Factor
Bryan Woodward, FRC Path, PhD, UK
Embryologists are an essential work force in an ART unit. Over recent years numerous scientific developments and high technology have become part of their daily lab work increasing complexity. What are the essential elements for turning an ART lab into a working paradise?

Q&A session and Coffee Break
2nd Session– Round Table 1
Real Case Scenarios and Lessons Learned.
Achilleas Papatheodorou, PhD., M.Med.Sc., Greece
Panelists:
Keshav Malhotra MD, MBBS, MCE, India
María José De los Santos, PhD, MSc, Spain
Alexis Adler, USA
What are the most important lessons learned after 43 years of ART. Real Case scenarios will be presented and lessons learned will be openly discussed among the panel of experts and the participants, in an effort to improve awareness and sharpen our skills to safeguard our ART systems and daily practices.


3rd Session- Round Table 2
Potential Adverse Scenarios– Test your ability to avoid disaster scenarios!
Alexia Chatziparasidou, MSc, PMI-RMP, Greece

Panelists:
Alessandra Alteri, PhD, MSc, Italy
Roberta Maggiulli, PhD, MSc, Italy
Alpesh Doshi, BSc (Hons), MSc, Dip RC Path, UK
The Panel is presenting potential adverse scenarios and discuss appropriate corrective and preventive responses. Being prepared for all disaster scenarios is the only way to avoid disaster!


Embryolab Academy is a non-for-profit foundation focused on education, training and research in assisted reproduction and its mission is to create a global network for ART specialists who wish to advance their theoretical and practical aspects, by organizing targeted workshops, training courses or advisory sessions.
Embryolab Academy is proud to present this innovative virtual conference where participants will have the unique opportunity to learn, from well-known experts, about the fundamental aspects of safe operation in a modern ART lab and further sharpen their skills on how to safeguard ART practices and ensure high performance.
Embryolab Academy remains committed into its founding values:
excellence in everything we do
commitment to safe ART practices and patient centered care
development through continuous learning, teaching and experience sharing
and promises a unique learning and training experience.
On behalf of Embryolab Academy
Alexia Chatziparasidou,
MSc, Sr. Clinical Embryologist,
Co-Founder and Director of
Embryolab Academy
Dr Nicholas K Christoforidis, 
MD, MSc, FRCOG
Consultant Obstetrician & Gynaecologist
Embryolab Clinical & Scientific Director
Co-Founder and Board Member of Embryolab Academy
Glykeria Samolada,
Genetic Counsellor
Co-Founder and Board Member of Embryolab Academy